Bags&Fruits distinguishes itself from the rest by the choice of materials: first quality, resistant and produced in Italy. Our latest novelty is called Essent'ial, and its main feature is that it is entirely made of paper! Yes, you read it correctly…
Eco products, resistant and washable in the washing machine!
The Essent'ial products are produced with a specially treated paper which makes it climate-resistant and long-lasting. It can be acquired in our Bags&Fruits store near Campo dei Fiori or in our Virtual shop.
All the models in the collection can be washed in the washing machine at 30º and are available in three different colours:
Like all other Bags&Fruits' models, the ones belonging to the Essent'ial line are also elaborated and sown entirely by hand in artisan workshops in Italy. This guarantees attention to detail and makes them very durable.
Three are the collection flagships: the handbag, the laptop bag and the backpack, practical and in vogue, always original and never boring…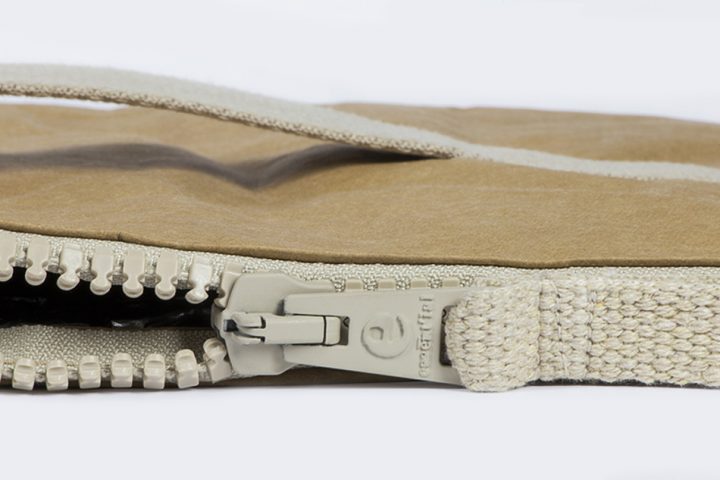 Essent'ial models: to each, his own…
The products of this collection are perfect for both men and women, they are practical and ideal for everyday use, to stylishly carry with you all that is necessary.
The backpacks (available in black, sandstone and grey) are characterised by their linear, classical design, adapted both to a day at the office as well as to a walk with friends. The straps are resistant and adjustable: they can be stretched to transform the backpack into a comfortable shoulder bag. They come with a comfortable inner pocket for your laptop and an external one for your keys and mobile phone.
The handbags (available in black, sandstone and grey) are perfect for men but also for women who love simple bags. They have a practical zip and an external pocket. They are also equipped with an adjustable, fabric strap.
The laptop bag, an essential accessory in everyday life, is characterised by a special inner lining to protect your pc from theft and to insulate it thermally, so as to keep a constant temperature inside. They also have a practical horizontal, fabric handle to prevent accidental falls. The laptop bags are also available in sandstone, grey and black and can be washed in the washing machine, like the backpacks and handbags.
What are you waiting for to try our paper products? You will only have to choose yours, wear it and wash it whenever necessary, so that they always look as good as new.
The Bags & Fruits store is located in Via dei Giubbonari 106, a stone's throw from the Campo de 'Fiori market in Rome. We are open every day from 10:00 to 20:00 (on Sundays from 11:30) and we are always available online for any information.
To meet the needs of the customers who cannot visit us, we have designed a virtual shop, which you can visit from home, walking through the shelves as if you were physically here. You will also have the opportunity to chat in real time with your personal shopper who will advise you for the best, and will arrange to send the chosen products directly to your home!